Question #fc437
1

Answer
Explanation:
The formula for sucrose is
It contains eight #"O-H"# groups.
The oxygen atoms are slightly negative, and the hydrogen atoms are slightly positive.
That is, the #"O-H"# bonds are polar.
Sucrose molecules are attracted to each other in the crystal because of the dipole-dipole attractions among the #"O"# atoms in one molecule and the #"H"# atoms in the neighbouring molecules (hydrogen bonds).
If we add water to sucrose, the #"O-H"# groups in the water form hydrogen bonds to the sucrose molecules in the crystal.
In turn, the sucrose molecules use their #"O-H"# groups to form #"H"#-bonds with the water molecules.
We see below a picture of water molecules attacking the surface of sucrose.
The water molecules surround the sucrose molecules, replacing the sucrose-sucrose #"H"#-bonds with sucrose-water #"H"#-bonds.
Eventually, the sucrose molecules leave the surface of the crystal and disperse themselves throughout the water as hydrated sucrose molecules.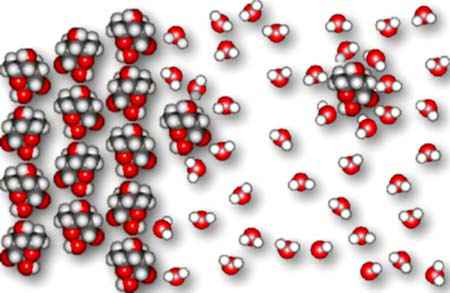 Impact of this question
1051 views around the world