What are aromatic hydrocarbons?
1

Answer
An aromatic hydrocarbon is a hydrocarbon that contains #4n+2# electrons in a planar conjugated π system (#n = 0, 1, 2, …#).
The most common aromatic compounds contain benzene rings (#n = 1#).
Examples are toluene and trinitrotoluene (TNT).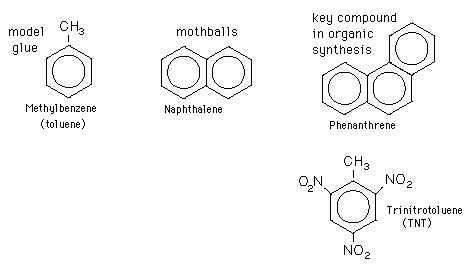 But any planar cyclic hydrocarbon that contains 2, 6, 10, 14 … π electrons is aromatic.
Examples are naphthalene (10 π electrons) and phenanthrene (14 π electrons).
The ring doesn't have to contain a 6-membered ring, as long as it is planar contains #4n+2# π electrons
Thus, [18]annulene is aromatic. It is planar and possesses #4n+2# π electrons (with #n = 4#).
Impact of this question
6252 views around the world