Question #c9022
1

Answer
Here's what I get for 1. and 2.
Explanation:
#"PCl"_3#
The Lewis structure of #"PCl"_3# is

(From saylordotorg.github.io)
It has 3 bond pairs and one lone pair for a steric number (SN) of 4.
Hence its electron geometry is tetrahedral.

(From OpenStudy)
The molecular shape ignores the lone pair and refers only to the bonds.
Thus, the VSEPR shape of #"PCl"_3# is trigonal pyramidal.

#"AsCl"_5#
The Lewis structure of #"AsCl"_53# is
It has 5 bonding pairs and no lone pairs, so its electron geometry and molecular geometry are the same.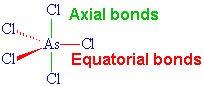 The VSEPR shape is trigonal bipyramidal.
Impact of this question
2908 views around the world