What are the isomers of C4H8?
1

Answer
I count six isomers of #"C"_4"H"_8#.
Explanation:
An alkane with 4 carbon atoms would have the formula #"C"_4"H"_10#.
This hydrocarbon has two hydrogens less, so it must contain either a double bond or a ring.
The six possibilities are:
But-1-ene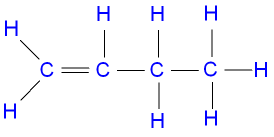 cis-But-2-ene

(from commons.wikimedia.org)
trans-But-2-ene
2-Methylpropene
Cyclobutane
Methylcyclopropane
And there you are!
Impact of this question
257288 views around the world