What kind of geometry does #SiO_2# have?
1 Answer
Answer:
The #"Si"# atom in #"SiO"_2# has tetrahedral geometry.
Explanation:
#"SiO"_2# is a network solid in which every #"Si"# atom (black) is attached to four oxygen atoms (red):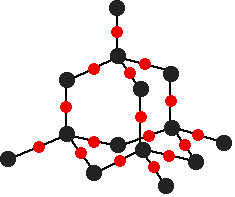 With a steric number of 4, the #"Si"# atom has a tetrahedral geometry.
Impact of this question
211 views around the world